Trobada 4/4 by Toplap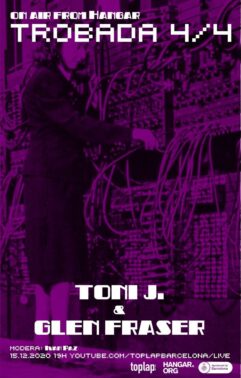 On December 15th, at 7 pm, the collective in residence Toplap presents Trobada 4/4, an activity in the form of a closed-door performance that will provide a space to get to know the work of the Toplap Barcelona live-coders community. Live coding is an artistic practice that revolves around writing source code in real time, so that the writing of the program is also part of the program!
The Trobada 4/4 will be broadcasted at Toplap's YouTube channel and it involves the participation of:
Glen Fraser
Glen Fraser (aka totalgee) is a Canadian software developer who has worked in graphics, sound, interactive and immersive technology for over a quarter-century. Most of his professional life has been spent creating software tools for artists, and collaborating directly with artists. He has been active with TOPLAP Barcelona since 2019, although his initiation to live-coded performance was in 2013, when he also belonged to the Barcelona Laptop Orchestra and the Wú Collective.
Inspired by TidalCycles' pattern language, and following the (joyfully irrational) live-coder tradition of reinventing the wheel, Glen develops and uses "Bacalao", his personal collection of live-coding tools for SuperCollider. Recently, he has been working on an environment for visual live coding, which he calls "Vargula". Glen inevitably spends far more energy creating tools than actually using them. In this performance, he intends to try something both visual and musical, exploring what complexity may emerge from simple rules. Primarily, it's an excuse to try something new, and see what happens.
Toni J
He is a member of the Toplap Barcelona collective, always venturing into new languages and methodologies for the creation of sound and visuals. What will he surprise us with this time?
Practical information
Date: December 15th
Time: 7 pm
Stream it here