Screening of the documentary Transceiver Body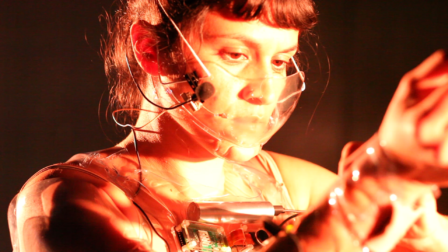 On 22 December at 7.30 p.m., the collective MATICS presents Transceiver Body, a documentary by the audiovisual creator Silvia Miranda, which revolves around Citlali Hernández 's the transmedia performance with which she investigates of the body in the digital space and the becoming of an online subject through the exploitation of one's own intimacy.
What is the relationship between the physical gestures of the body and the viral images that circulate every day on our screens? What does it mean to be a connected body? Kittens, emoticons, dopamine, memes and emojis. Addiction, pure addiction. The audiovisual creator Silvia Miranda has followed the exploration of the piece and through the her gaze has created the documentary Transceiver Body which will be screened at Hangar's sala Ricson.
Practical information
Date: 22 December, 2021
Time: 7'30 p.m.
Place: Hangar, Sala Ricson
Free admission, with reservation by sending an email to: hola@maticsbarcelona.net