Collide Residency Award resolution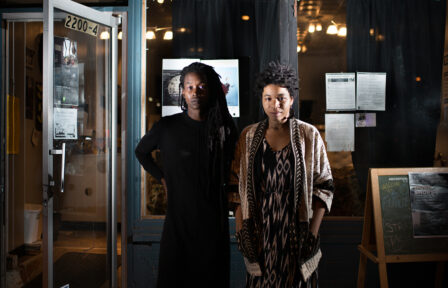 Following an international open call launched in October last year, Arts at CERN has announced the winner of the Collide residency award. Black Quantum Futurism, a collective based in Philadelphia (US), will first complete a two-month residency at CERN, followed by one month in Barcelona at the Hangar Centre for Art Research and Production, in connection with the city's scientific laboratories.
Black Quantum Futurism is a multidisciplinary collaboration between the artists Camae Ayewa and Rasheedah Phillips. The duo explores the intersections of futurism, creative media, DIY-aesthetics, and activism in marginalised communities through an alternative temporal lens. Their work focuses on personal, cultural, familial and communal cycles of experience, and their expression methods range from writing, music and film to visual art and creative research projects.
During their residency, which is planned for summer 2021*, and in dialogue with the scientists and collaborators at CERN and in Barcelona, Ayewa and Phillips will extend their research and produce a new artwork based on their proposal entitled "CPT Symmetry and Violations".
Additionally, the jury selected three Honorary Mentions: Rosa Barba (Italy, based in Berlin), Tania Candiani (Mexico, based in Mexico City) and Dennis Dizon (Philippines, based in Barcelona). They will be invited to take part in the Guest Artist programme of Arts at CERN: a short stay at the Laboratory to investigate and research ideas to support their proposals.
A total of 564 project proposals were received from 79 different countries for this ninth edition of Collide. The diversity, reach and quality of the proposals were remarkable and the decision was challenging.
The jury was composed of: Mónica Bello, curator and head of Arts at CERN; Stefanie Hessler, director of Kunsthall Trondheim; Lluis Nacenta, director of Hangar; Rosa Pera, independent curator; and Helga Timko, accelerator physicist at CERN. Collide has been organized in collaboration with Barcelona's Institute of Culture and Barcelona City Council since 2019 as part of a three-year collaboration (2019-2021).