Willem de Haan, Cabaret Internet & SPREAD MAG: Once in a lifetime comedy event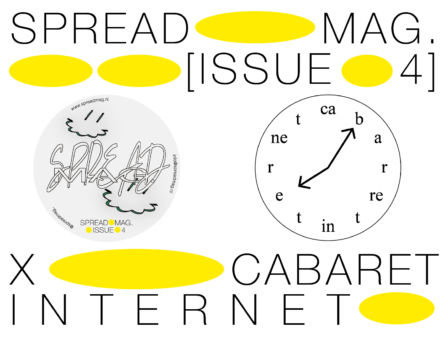 SOLD OUT
On June 18 at 6 pm, Hangar hosts the presentation of SPREAD MAG. and Cabaret Internet, who join forces for a once-in-a-lifetime comedy event. Unique! This special occasion will be strictly judged by international artist Willem de Haan.
Go Ahead Humor Me
SPREAD MAG. is a young editorial collective to which the curiosity for undiscovered talent is central. The collective is continuously on the lookout for creatives with the right amount of patience to secure their place in the industry. This curiosity manifests itself in a biannual magazine. During the once in a lifetime comedy event SPREAD MAG. will release it's 4th edition: Go Ahead Humor Me! (Official Spanish release!).
Return of the Mothership
Cabaret Internet is a meeting point dedicated to experiment with the limits of entertainment by offering playful space to presents shows, performances and small live interventions. Since July 2019 Cabaret Internet has landed their mothership at Sala Vol, El Pumarejo and Abaixadors10. Fasten your seatbelt!
The Jury
This event will be hosted and examined by Hangar ex-resident Willem de Haan. He's unknown for his immersive art presentations and concrete comedy acts. No anecdotes about things that happened in the past! Real things happening right in front of you! So authentic.
Participants
Practical information
Date: June 18th
Time: 6 pm
Price: 5 €
Tickets here
Languages: English, Catalan, Spanish
Capacity: limited seats
The event will be carried out following all security measures.
Attendance will be on a first-come, first-served basis.