Ursula K. Le Guin and Marge Piercy. Reading session by Helen Torres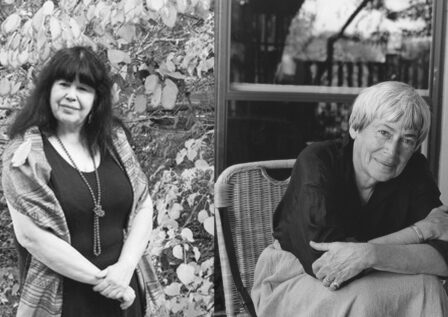 Date: October 8th
Time: 6 pm – 8 pm
Participation free of charge
By Helen Torres
NO MORE PLACES AVAILABLE
Within the conversation proposed by the Fictions of Dis-order program, we propose a playful and collective reading of two feminist science fiction novels that address the question of what the world would be like in a non-capitalist setting. How would we love, live and die in a time frame where the relationships between humans and non-humans are not crossed by dualistic anthropocentric thinking?
Critical discourses are never enough to change a state of things, it is necessary to imagine other possible worlds. That is why we need other kinds of narratives. Stories that revitalize everything that capitalism has usurped, stories that act as an invitation to think and activate interspecies sensibilities and that put the earth, and not humans, at the center of thought and action.
"Facts depend on theory, theories depend on values, values depend on stories, and facts take on meaning within stories," Donna Haraway tells us. Beyond the mainstream apocalyptic stories, there is a whole world of stories that tell us about other ways of living together that can be a very valuable tool for learning the art of living together in the rubble of capitalism. Therefore, this activity of reading and playing around two novels from the seventies: The Name of the World is Forest, by Ursula K. Le Guin and Woman on the Edge of Time, by Marge Piercy. There will be an introduction to each of the novels, followed by a collective reading of some fragments and, finally, an exercise in speculation about the worlds that each of the stories raises.
A previous reading of the texts is not necessary.
Helen Torres is a sociologist, educator and translator. She works from feminist and anti-colonial perspectives on the articulation between language, art and politics. She has published a novel (Autopsia de una langosta, Melusina, 2010) and an anthology of stories (Relatos marranos, Pol-len, 2015). He has specialized in the work of Donna Haraway, from who she has translated into Spanish is Testigo_Modesto@Segundo_Milenio: HombreHembra_Conoce_Oncoratón (UOC, 2002), Manifiesto Chthuluceno desde Santa Cruz and Seguir con el problema (consonni, 2019). She conducts workshops on speculative fables. She has just translated Woman on the Edge of Time, by Marge Piercy (consonni, 2020). She has developed geolocalized sound narratives and literary walks. Her latest sound intervention, Exercici de fabulació especulativa is part of the exhibition Polítiques del sòl, curated by Christian Alonso.