Residents's agenda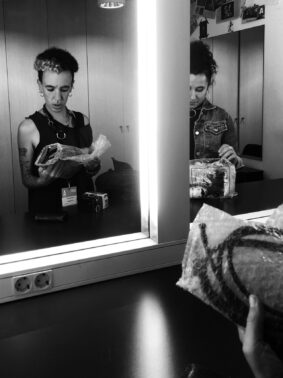 Here you will find the activities that resident artists and projects will carry out in September 2023 inside and outside Hangar.
9/7
Sofía Montenegro presents the listening session Llenar un vacío at Santa Mònica.
+ info
Until 9/10
Valentina Alvarado Matos participates in the group exhibition ACTO II "Oswaldo Vigas: El Lenguaje Contemporáneo" in Caracas, Venezuela.
+ info
9/12
Hamaca presents TRANS* JOY, with a screening of Virginia Villaplana's Escenario doble, together with Orne Cabrita's intervention in Santa Mònica.
+ info
9/13
Sofía Montenegro presents the exhibition Entre dos azules conmovidos at Blueproject Foundation (Estrany de la Mota and Espai Poblenou Joan Prats).
+ info
9/14
Stella Rahola Matutes presents the exhibition La Biblioteca as part of the Barcelona Gallery Weekend at Dilalica.
+ info
15/9
Sofía Montenegro participates at the Biennal d'Art de Tarragona at the Museo de Arte Moderno de Tarragona.
+ info
9/20
Giulia Tomasello and Isabel Farina give the talk Biofilie Lab-ALMA Toolkit, introducing the Biofilie Lab project, which they will be developing during their stay at the Hangar Wetlab.
+ info
9/25
Stella Rahola Matutes opens together with Roger Paez and students of MEATS of Elisava the intervention Inviting Life at the Biennial Shanghai Urban Space Art Season (SUSAS).
Until 9/26
Wetlab opens the call for the Wetlab Aiguamoll collective residency.
+ info
Image: txe roimeser and Andrea Corrales by Anna Irina Russell