Air Pressure, by Lawrence Abu Hamdan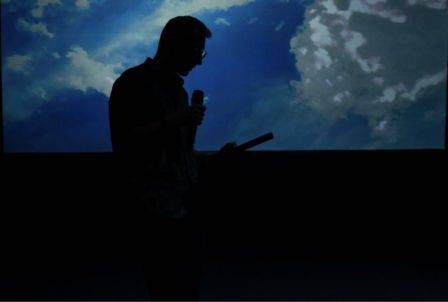 It has never been more urgent to discuss the horrors of aerial warfare in a comprehensive and historically situated way. Next Saturday, December 2 at 7 pm, within LaaS and the practical research thread Inframaintenance, Lawrence Abu Hamdan will present in the Ricson room of Hangar the performance Air Pressure.
Lawrence Abu Hamdan's Air Pressure draws on research, conducted between May 2020 and May 2021, into the aerial soundscape of Lebanon, documenting 2,412 instances of Israeli fighter jets and drones. Through chronological sequencing and live audio processing, the performance analyzes the relationship between background noise and atmospheres of violence.
Air Pressure is performed by Lawrence Abu Hamdan with live sound design by Moe Choucair.
After the performance, there will be a q&a session with the artist and hot soup for the audience.
Practical information
Day: December 2, 2023
Time: 7 pm
Venue: Sala Ricson, Hangar
Free entry until full capacity is reached
Lawrence Abu Hamdan is an artist and audio researcher describing himself as a "private ear" who listens with and on behalf of people affected by corporate, state and environmental violence. Abu Hamdan's work has been presented in the form of forensic reports, lectures and live performances, films, publications and exhibitions around the world. He received his PhD in 2017 and has been a fellow and lecturer at the University of Chicago, the New School in New York and, most recently, at Johannes Gutenberg University Mainz, where he is developing his research AirPressure.info.
Abu Hamdan's sound research has been used as evidence in the UK Asylum and Immigration Tribunal and has been a key part of advocacy campaigns by organisations such as Amnesty International, Defence for Children International and Forensic Architecture. His projects, which reflect on the political and cultural context of sound and listening, have been presented at the 22nd Biennale of Sydney, the 58th Venice Biennale, the 11th Gwangju Biennale, the 13th and 14th editions of the Sharjah Biennial, the Witte De With in Rotterdam, the Tanks at Tate Modern, the Chisenhale Gallery, the Hammer Museum in Los Angeles and the Portikus in Frankfurt. These works are in the collections of the Museo Nacional Centro de Arte Reina Sofía, MoMA, the Guggenheim, the Hamburger Bahnhof, the Van Abbemuseum, the Centre Pompidou and the Tate Modern. Abu Hamdan has been awarded the Toronto Biennale Audience Prize for 2020, the 2019 Edvard Munch Art Award, the 2016 Nam June Paik Award for new media, and in 2017 his film Rubber Coated Steel won the Tiger short film award at the International Film Festival Rotterdam. For the Turner Prize 2019, Abu Hamdan, together with nominated artists Helen Cammock, Oscar Murillo and Tai Shani, formed a temporary collective to be jointly awarded the prize.
An activity developed by Hangar and La Virreina in collaboration with La casa Encendida.