Fake Therapy, with Valentina Desideri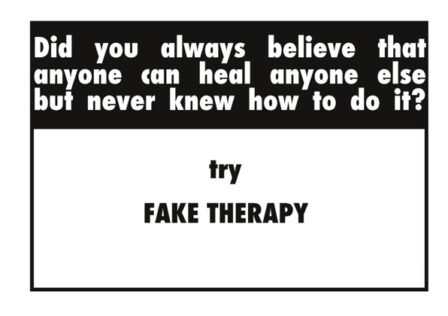 During a morning, Hangar's resident artists held a Fake Therapy session with the artist Valentina Desideri. What is Fake Therapy? Here the practice and explained by her:
Fake Therapy is a practice between two people that stimulates and reactivates the sometimes hidden capacities of anyone to heal someone (or something) else. It is an autonomous practice of disciplinary origin and rejects expertise or any mode of knowing-authority.
The primary focus for the therapist is to remain in a state of not knowing what he or she is doing while setting the intention to heal the other person. Setting the intention simply means that the therapist assumes that whatever is being done or is occurring is healing.
The roles of therapist and patient are always interchangeable.
What is therapy?
"Therapy is not the reconduction of the sick body to normality but of the being to what is possible to be" Franco Bifo Berardi
"Maybe one day we will know that there was no art but only medicine" J. M. G. Le Clèzio
How is Fake Therapy given/received?
One person assumes the role of therapist (T) and the other person assumes the role of patient (P)*.
P lies down or finds any other more comfortable and relaxed position and closes his/her eyes.
T shuffles the Fake Therapy cards while setting the intention to heal P.
T takes 4 cards from the deck, places them side by side and reads them.
T can start from the indication written on the cards to give therapy to P until T feels the session is over.
The healing is what Valentina calls as Fake Therapy, a very simple healing practice that is not based on any knowledge or belief and can be practiced by anyone.
By express wish of the participants in order not to disturb the dynamics, the session cannot be recorded on any medium.
Practical information
Date: July 5, 2022
Time: 11 a.m.
Venue: Plató Room
This activity is part of OLLA, Common Research Program.
Closed-door activity for resident artists.
Valentina Desideri studied contemporary dance at the Laban Center in London (2003-2006) and graduated in Fine Arts at the Sandberg Institut in Amsterdam. She launched the Fake Therapy and Political Therapy project and co-organizes the Performing Arts Forum. She speculates with writing together with professors Stefano Harney and Denise Ferreira da Silva, She also defines herself as a writer and reader.