Garganta/Surco/Brazo (A Prefigurative Script)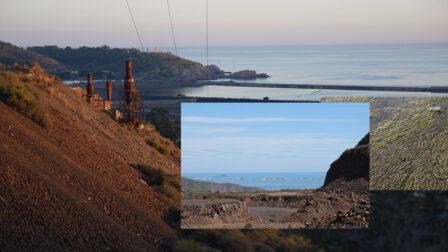 Lorenzo Sandoval presents Garganta/Brazo/Surco (A Prefigurative Script), an occasion to open the Garganta/Brazo/Surco research within OLLA, Hangar's Common Research Program (more info coming soon). In this session we will share the production process of the script, as a way of sharing the project's writing methodologies and reflecting together on the notion of rights of nature.
Garganta/Brazo/Surco explores the continuities between body and landscape as a way to study the establishment the new legal paradigm of the rights of nature. To this end, the film introduces three interconnected chapters that delve into the extractivist logic that has been spreading for decades in Murcia, and that always ends in calamities for people and ecology. 'Garganta' – referring to the gorge as the mines' gallery and the miner's throat – explores the connections between the mining processes, the Portman ecological disaster, and how the music of the miners from La Unión (through trovos and quejíos) was the workers' way of inscribing that history. 'Brazo' -related to La Manga, as an arm of land, and to a fundamental part of the workers' body- focuses on the production of a dystopian urbanism that functioned as a workers' vacation promise in Franco's developmentalism, through filmic and sound devices. 'Surco' uses its double meaning to relate the skin (wrinkles) to agriculture (furrows), studying together the process of anoxia of the Mar Menor as a consequence of the Agroindustry, and the structural racism that partially founds its production.
Practical Information
Date: Tuesday, July 12
Time: 5 pm
Venue: sala Ricson, Hangar
Free admission
Lorenzo Sandoval works as an artist, filmmaker and curator. He has exhibited in multiple state and international spaces throughout his career. To highlight some of his latest works: he was part of 'Canine Wisdom for the Barking Dog exploring the sound cosmologies of Halim El Dabh' for Dak'art Biennale 2018. Sandoval was artist-in-residence at Bisagra (Lima), with an exhibition at the Amano Museum of Pre-Columbian Textile. He has been part of the Miracle Workers Collective, representing Finland at the Venice Biennale 2019. He presented 'Shadow Writing (Collective Factory)' at IVAM Alcoi. He recently presented the retrospective of 'Shadow Writing' with pieces from all chapters of the project, at Centro Párraga in Murcia. He has been part of "Here History Began. Tracing the Re/Verberations of Halim El-Dabh" at SAVVY Contemporary. Together with Tono Vizcaíno, he has presented 'Industria / Matrices, tramas y sonidos' at IVAM in 2021 and IVAM CADA 2022. In 2022 he inaugurated 'Formas que sostienen el discurso', collaboration with Floreal Rodríguez de la Paz, at The Liminal, Valencia. Co-directs The Institute for Endotic Research in Berlin.