(Català) Taller de filmació i revelatge en 16 mm color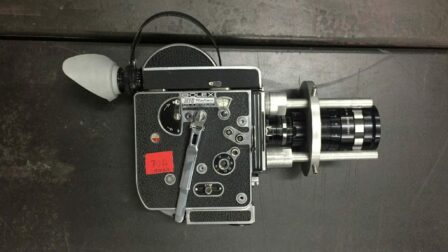 The project in residence, Crater-Lab, runs the 16mm colour filming and developing workshop at Hangar.
In filmmaking, all processes are controlled by the filmmakers, with the exception of film development, thus eliminating the possibility of experimenting with the aesthetic qualities of the analogue format.
Handmade developing techniques allow the exploration of the response of light and its (d)effects at the moment of "cinematic alchemy", thus strengthening the intimate relationship between the filmmaker and the film.
The workshop proposes the creation of a collective film shot with a 16mm camera, followed by the practice of different development processes: negative development, reversible-inversible and other experimental methods.
There will be a first theoretical session on analogue and experimental film, as well as a practical and technical introduction. On Saturday, a shoot will be made using various 16mm filming techniques such as fading, chaining, overprinting, changing film speed, etc. ….. The films will then be developed using various processing techniques.
The aim is to produce a collective work based on guidelines agreed before the shooting and to be able to shape it with the intention of having a finished piece.
PROGRAMME
1- Introduction to colour film developing. Super 8 and 16 mm.
Materials needed.
Emulsions and films.
Emulsion processes. Filming, developing, projection.
Chemicals versus natural products.
Preparation of chemicals.
2- 16 mm filming.
The 16mm camera.
Loading of film and camera.
Filming exercise.
3- Developing. Basic processes.
Developing negatives.
Reversible development.
Experimental development, solarised, crossed…
4- Projection.
Projection and viewing.
At the end of the workshop, participants will receive an HD screen print of the resulting film, as well as a basic bibliography and links of interest.
Practical information
Day: 10 and 11 June
Time: from 10:30 am to 2 pm and from 4 to 7 pm.
Place: Plaça de Hangar. T door.
Price: 90 €.
Registration at info@crater-lab.org