The reticular society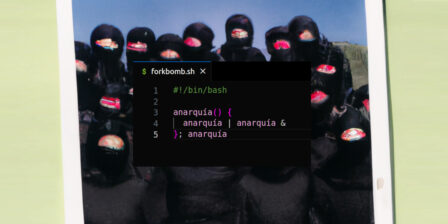 In this talk, Ian Alan Paul will present excerpts from their forthcoming book, The Reticular Society, an anti-capitalist critique of the networked society. Within the framework of an analytical trajectory that includes the relationships between connected life and separate life, individual life and computer life, reticulated life, reticulated death and the geometric repression of social uprisings, Paul will introduce some modes of creative insurrection and destituent hacking that are immanent from relationships in the network. The talk will be in English and will be followed by a conversation between the author and Jara Rocha that will address the crossovers between Paul's work and the research project LaaS (Life as a Service) being carried out by Rocha in Hangar/La Virreina during 2023.
Ian Alan Paul (San Francisco, 1984) works at the intersections of critical theory, contemporary art, anarchist thought and digital media studies. Their work includes photography, essays, video and programming, and they investigate social upheavals in global contexts. They have taught and carried out projects in the United States, Mexico, Spain, Egypt and Palestine. They completed their PhD at the University of California, Santa Cruz in 2016 and live in Barcelona.

Practical information
Day: June 2nd
Time: 7 pm
Venue: Auditori Lab, La Virreina
Free admission with prior reservation
In collaboration with: