Rarefacció 2023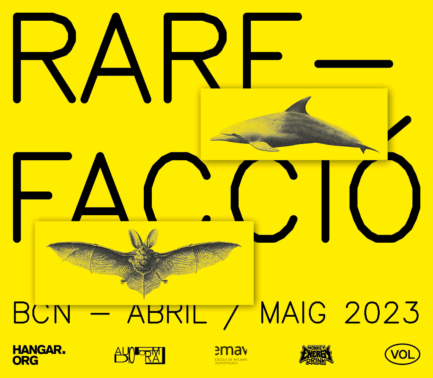 Hangar presents the fourth edition of Rarefacció, a listening cycle that takes place in Hangar's Sala Ricson and is part of the Audio Formal/Politics of Listening research line.
"We present Rarefacció 2023 in its fourth edition, where we wanted to compress the event into five days in order to increase the number of artists per session and offer more complete evenings.
Far from looking for similarities or commonalities in the practices of the artists who make up this edition of 2023, for this fourth edition we have recovered proposals that we wanted to programme but couldn't find the right moment. We also wanted to continue giving visibility to sound art and musical proposals by artists from the immediate context.
Laura Llaneli, Dania x Valentina Alvarado Matos or Senzu Beans are artists who not only have a long-standing relationship with Hangar, whether through residencies, grants or other programmes at the centre: each of their proposals is also part of the current experimental sound scene in Barcelona.
For this edition, we are closing three of the programmes with DJ sessions, increasing the number of artists working in this format.
We wanted to vary the programme as much as possible in terms of format, research and sound: Merche Blasco will show us the physical instruments she builds for her concerts, as well as Xavi Manzanares dAAX!, but with virtual and physical open hardware instruments that he also incorporates into her performances. Nueen, who released the beautiful Diagrams of Thought in 2022 – in my opinion one of the best works released last season by the Balmat label in Barcelona – will be presenting his new live show at Sala Ricson.
Patiño&Schuttel will bring us one of their sound performances in which the body, collective emotionality and experimentation go hand in hand to offer new avenues of investigation, both in performance and listening.
A Paralaxe Editions showcase will feature live performances by Victoria Shen and Dania x Valentina Alvarado Matos. DJ Mookie from Barcelona's Jokkoo collective will close the day on 21 April.
The session on 12 May is the result of a call from the Emav audiovisual media school, which is programming the finalists from the last edition. Thus, the winners Basilisque will share an afternoon with the other finalists Chill Ness, Sankki and Vallès Muerto.
The atmosphere of Florian TM Zeisig, the post-pandemic sound of Eric Frye & Jung An Tangen or the detail preciousness of Jasmine Guffond with visuals by Ilan Katin will close the programme with foreign artists on the last day in the Ricson room of the Hangar.
The final night of the show will be in the Poblenou neighbourhood, in the friendly VOL space, where we can listen to the techno drifts of Kentaro Terajima, who has been at Rarefacció since its first edition, and Lanav, who will offer us one of his sessions in which he deconstructs from bass music to breaks, transforming rhythmic abstraction into new forms of dance.
We are very grateful: the image of the festival is the work of the Oficina de disseny studio. For this edition, we wanted to focus the graphics on two animals that have a special relationship with sound. Bats and dolphins have evolutionary similarities in their echolocation systems, which give them not only a physical relationship with waves, but also a much wider range of sounds than most animals.
Rarefacció 2023 would not be possible without the collaboration of Monkey Energy Drinks, who have once again joined us for this edition to help us improve the exhibition".
Sergi Botella, curator of Rarefacció.
Rarefacció will be held from 14 April to 19 May, on Fridays at 7 pm. The ticket price is 9 euros, including a drink.
PROGRAMME
April 14 | 7 pm | Sala Ricson, Hangar
Laura Llaneli / Nueen / dAAX!
Tickets
April 21 | 7 pm | Sala Ricson, Hangar
Paralaxe Editions presents: Dania x Valentina Alvarado Matos + Victoria Shen + Mookie (DJ)
Tickets
May 5 | 7 pm | Sala Ricson, Hangar
Merche Blasco / Patiño & Schuttel / Senzu Beans
Tickets
May 12 | 7 pm | Sala Ricson, Hangar
Emav presents: Chill Ness + Sankki + Vallès Muerto + Basilisque
Tickets
May 19 | 7 pm | Sala Ricson, Hangar
Florian T M Zeisig / Jasmine Guffond & ilan Katin / Eric Frye & Jung An Tagen
Tickets
May 19 | 11 pm | Sala Vol
Kentaro Terajima + Lanav
Tickets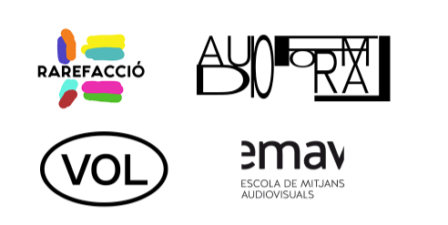 Supported by: