Connecting women around the world. Interview with Female Laptop Orchestra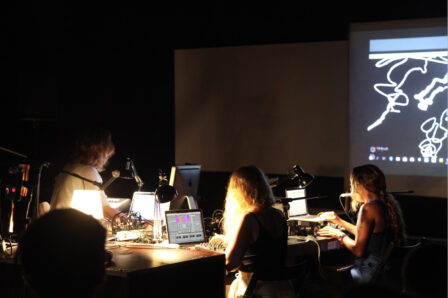 On the occasion of Rarefacció, the music and sound program of Audio Formal, Natalia García interviews Female Laptop Orchestra invited to the fourth and last session of the cycle.
NATALIA GARCÍA. As we know, women were far from being selected for a symphonic orchestra. It was needed not only blind auditions but women were also asked to take off their shoes as a way of preventing gender discrimination. Is there any relationship in between the orchestra's classical model and female visibility in your project?
FEMALE LAPTOP ORCHESTRA. When I started the project in 2014, I approached a few female musicians I already knew and asked them to join me. As we were all doing our research at universities, I asked them if they had anything specific they wanted to explore (as part of their research) so we can incorporate this into FLO activities. I also asked them if they had any particular event in mind (conference, festival, etc.) which would be suitable for FLO performance and, if performing also involved travelling, what was the situation with organizers being able to offset the costs. This become a framework for the activities that unfolded. Along the way, we reached out to more female colleagues inviting them to play with us, and more of our male colleagues started sending emails connecting us to their female colleagues.
N. G. Since late 80s, technology and digitalization has been a very special platform for women to perform, to participate and rise their voices. This was in part because of the new possibilities of being able to communicate and to interact without their physical bodies. Do you think there is a relationship between female empowerment and working with technology and music (two of the most disciplines where women were set apart) in your practice?
F.L.O. Because the project grew from those initial university connections, and we were mostly doing research related to HCI, computer science or engineering (with the music focus), we were able to incorporate the research we were doing into FLO performances and test how stuff worked in the real world. We had a website from the very beginning, so we were able to highlight everyone's involvement with FLO, and we do this 'raising of visibility' quite deliberately!
N. G. What's the relationship you offer between audience participation and contemplative experience in your performance?
F.L.O. In few of the performances we used Twitter as a way of audience engagement (the audience would tweet their responses to our playing and in turn we would respond to that feedback musically) or a platform that works on a mobile phone, turning text into sound (so the audience can contribute to the performance musically by typing text). We are always exploring new ways of connecting with the audience, and lately we have been doing a lot of Q&A sessions at the end of the performance to show the tools, explaining the process of devising a performance and how we bring the audio-visual streams from remote performers. The idea here is to demystify the process as well as share tools we are using with the audience to hopefully inspire them to use some of them in their own projects.
N. G. In the workshop you had launched at Hangar you offered women a 50% discount on the price. Had you already seen any changes in participation so far? Do you have any other inclusive-policy or strategy for bring women closer to the music scene? How do you encourage other people to be part of the project?
F.L.O. By offering a 50% discount we wanted to encourage more female participants to join us. As it happened, we only had female participants at Hangar workshop, so we are not sure if the reason being is 50% discount or the fact we are called Female Laptop Orchestra, or a combination of both.
I have recently run a number of collaborative music making workshops in Australia and Croatia and have noticed an interesting change in dynamic when participants were of both gender. A few female participants even told me they feel more comfortable asking lots of questions if other participants are also female.
Perhaps a way forward is to offer specific activities to female participants, with a view of sharing knowledge in a supportive 'can-ask-lots-of-questions' environment, and when they become more confident in working with music technology, they can choose their future collaborators from either camps female and male!
N. G. As I have read, you have been developing FLO for 4… almost 5 years, am I right? What is the role of FLO in the music context/industry/live shows? Where would you like to be in some years? Where in the map (virtual, of course) do you situate in relation with other female sound workers? How do you cope with collaborations?
F.L.O. The role of FLO, as I saw it initially, was to connect women globally through collaborative music making. Recently we expanded this to also involve collaborations with female dance artists, video artists and VR artists. Our aim of connecting women globally remains the same, but the tools which we are using to do so and the medium through which we are collaborating are evolving.
We are simultaneously situated here (i.e. at Hangar) and everywhere else (depending on who is performing with us and where they might situate themselves at that time). This co-located vs distributed aspect of FLO poses many artistic, technological and communication challenges. The most challenging is to keep up with the conversation thread in the days leading up to performance, as well as during the performance itself. At Hangar, I used 3 computers, 2 mixing desks and 1 mobile phone as part of 'performance management' on top of performing. I didn't think it was gonna be possible to do this with just 2 hands but somehow miraculously I managed ha ha ha!
N. G. Is there any relationship between your research as PhD/Ma/MSc holders and your work as technicians, musicians? Is there any aim or goal you would like to reach considering your thoughts on this theme?
F.L.O. Please see some of the answers above!
N. G. I saw you performed not only in many different spaces and cities but that you've also developed your practice in different programs, such as conferences, talks, workshops, etc. In which of all these scenes do you feel more comfortable? Is there any other practice you'll like to be part of sometime?
F.L.O. These scenes serve quite different purposes. We performed at a few academic conferences related to music and computing, because some of us submitted research papers to those conferences. Fees for attending academic conferences are usually quite high, so if you can combine presenting research with a concert this makes sense. We also played at arts spaces, art festivals and in collaboration with other ensembles, composers, filmmakers and telematics orchestras.
Before doing the workshops and concert with FLO at Hangar's Rarefacció, as part of my Macgeorge fellowship at the University of Melbourne and Arts residency at the Academy of Music, University of Zagreb, I did a lot of masterclasses, talks and workshops on the theme of collaborative music making, and was able to present FLO project to new audiences in Australia and Croatia and get their feedback.
I was also able to organize five FLO concerts and play alongside our colleagues from Melbourne and Sydney (who up to now only experienced playing with us remotely), and Zagreb Flute Ensemble (who FLO collaborated with in 2016), meet awesome female musicians, poets and visual artists in Australia and Croatia and start up a new collaboration with my colleagues, dance artists from Japan. In one of the concerts we also collaborated with our Ethernet Orchestra (EO) colleagues, which we hope to continue doing.
Whilst in Australia, I also did some super fun experimentations with collaborative music making in different contexts, i.e. taking the performance 'out of the building' and 'off the grid' and doing things like site-specific concert in my garden (involving flute improvisations and live soundscapes) or a concert on a small boat in the middle of the Yarra River with just battery powered laptops, bluetooth speakers, the sounds of the river and Australian wildlife mixed into the composition. It was beyond awesome, and I am looking forward to doing more performances of this kind in the future. I'm thinking Hangar courtyard could be a nice space for this, as you have such perfect weather all year around!