Hangar participates in La Nit dels Museus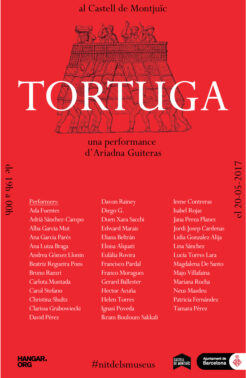 On 20 May 2017 from 7pm to midnight, in the framework of La Nit dels Museus, a project promoted by the Culture Institute of Barcelona in collaboration with Hangar and El Castell de Montjuïc Tortuga will take place. A performance of Ariadna Guiteras on a large scale, composed of 40 people, specially and spatially designed for the Montjuic Castle.
Tortuga is a choreography that focuses on the sinuous tension of the bodies in relation to other bodies, in space and in the matter, focusing on the tacit violence of the relations of power, resistance and seduction. From the displacement of the strategies of mass control used by the police in democratic states to the perimeter of the Montjuic Castle and taking advantage of an event with a great influx of public as is La Nit dels Museus, the public will be questioned by different human formations along the perimeter of the castle, altering its movement, sometimes impeding the passage, sometimes allowing it, with the will to melt the bodies with the stone, and control with affection, without distinction.