Paco Chanivet gives the children's workshop "Ona and the robot that did not know"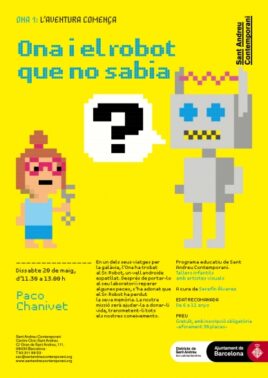 Paco Chanivet gives the last session of "Ona 1: The adventure begins".
On one of his journeys across the galaxy, Ona has found Mr. Robot, a battered old droid. After taking him to his laboratory and repairing some pieces, she has realized that Mr. Robot has lost his memory. Our mission will be to help her to give him life by transmitting our knowledge.
"Ona" is the educational program of Sant Andreu Contemporani, structured into annual cycles of workshops by guest artists, aimed at children and family audiences. A space in which artists and children experiment with creative strategies producing shared knowledge from practice.
Schedule
11:30 a.m. to 1:00 p.m.
Recommended age
6 to 11 years
Price
Free
Limited capacity
Inscriptions
Phone: 93 311 99 53
Sac (at) santandreucontemporani.org