Lucia Egaña presents Mi sexualidad es una creación artística in Hamaca Projecta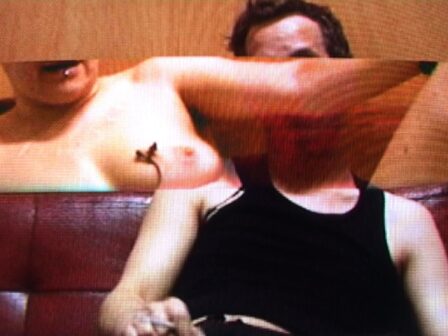 The next May 24, in the framework of Hamaca Projects, the annual cycle organized by Hamaca, media & video art distribution at the Arts Santa Monica, the artist in residence Lucia Egaña presents "My sexuality is an artistic creation", 46 '. Projection followed by a dialogue between Lucía Egaña, Marisela Montenegro and Joan Pujol.
The post-porn has been developing with intensity since approximately 2000 in Barcelona. It is an expression where it is difficult to separate artistic production from activist practice, and where the limits and spaces of action are blurred.
The documentary "My sexuality is an artistic creation" shows the people and the groups that have worked and created what is called "post porn" in this city. Starting from 7 interviews this journey tries to reveal the causes, motivations, and peculiarities of this scene, where the search to construct other forms of representation of the sexuality is visible in a hybrid and bizarre result very linked to the performance and the interventions in the public space. "My sexuality is an artistic creation" is a documentary that works as an illustrated cartography mixing stories and perceptions with post porn DIY videos, documentation of actions and various interventions carried out mainly in Barcelona.
Starring: Maria Llopis, Go Fist Foundation (Idoia + Karolina / Spina), La Quimera Rosa (Yan + Cecilia), Diana J. Torres aka Pornoterrorist, Post-Op (Elena + Majo), Annie Sprinkle & Beth Stephens, Marianissima, Ex-gifts, Itziar Ziga, doro Doroti / tokioss, videoarmsidea, Perrxs Horizontales. "My sexuality" is an artistic creation was assisted by the Center for Culture of Gifts Francesca Bonnemaison.