SIGNUM_El invisible revelado: Practical seminar on presence, perception and noise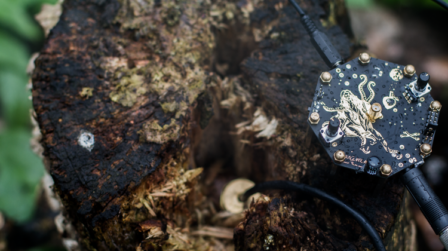 The SIGNUM_El invisible revelado seminar will be held on Thursday, June 1, starting at 5:00 p.m., in the framework of Open Thursdays, which aims to show experimental techniques of receiving signals, building antennas and listening through the SIGNUM device. The seminar condenses several years of study on amplification and reception of electromagnetic frequencies that transcend the range of human perception. Its operation is similar to instrumentation amplifiers found in medical equipment – electrocardiograph, EEG, pulse oximeter – that work with very weak signals.
SIGNUM is a device designed to offer a clean and quality signal to various input sensors: antennas of different bandwidths, high impedance transducers, photosensitive cells, infrared, ultraviolet or line level and acoustic pressure.
The electromagnetic spectrum will be used as a creative resource where participants will construct a device capable of modulating absent phenomena on various media or supports.
During the seminar each participant will obtain a printed circuit board (PCB) with industrial finish in matte black and gold, along with a series of sensors and documentation both printed and digital to build the SIGNUM device designed by Victor Mazón Gardoqui and presented for the first time In Spain in Hangar.
The seminar is aimed at a creative, curious or scientific audience – multidisciplinary artists, sound, musicians, hackers or programmers – as it deals with theory and praxis about signal registration, electromagnetism, listening, construction of electronic and mechanical devices. Each participant will be able to adapt the SIGNUM system using various sensors provided to experiment in an empirical way the different frequency ranges of interest: infrared, ultraviolet, radio / television, subcutaneous-body resistivity, friction, underwater microphone, electromagnetism originated by electronic devices of consumption, etc.
There is no need for prior knowledge on the subject, but rather relative patience since it will work with very small components and requires some manual dexterity. In the seminar we will have a series of tools to help us in the construction process.
Participants will be able to take home all the material built during the workshop.
85 € Kit and Materials: Printed circuit board, electronics, sensors: Phototransistor (ultraviolet light sensor, infrared, visible), sound pressure, piezo low frequency, coil, SMA antenna connector, 2 external inputs, etc …