PARATEXT nº7 with Germán Portal Garbarino, Paulina Silva Hauyon, Marco Noris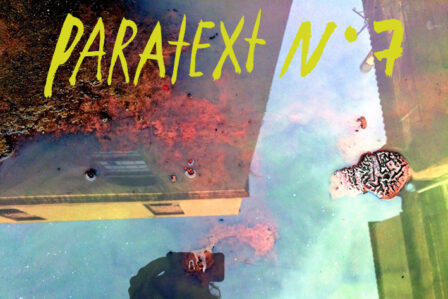 Paratext hides a monthly schedule of presentations by artists in residency in Hangar, always on Wednesday from 7 pm to 9 pm. Several artists present in unconventional formats specific projects or parts of their works. The meetings are always opened to the public in order to enable interaction with the artists themselves.
Next session will take place on Wednesday, November 11 at 7 pm in Hangar at Ricson space.
The artists will present their work:
His practice is focused basically on painting, and he uses painting as a process of customizing images and narratives. Further, his painting is also a register of ephemeral and domestic everyday life actions.
He commonly works with his own environment and life experience exploring personal and local narratives with particular and universal themes. His painting is also a document, register and record of ephemeral everyday life actions. His work consumes forms and re-programmes them precisely in a traditional way, painting.
He is also interested in a defamiliarization process, and his work plays, through painting, with a distinct combination, alteration and re-situation of elements, connected or unconnected to each other.
Paulina Silva has a degree in Visual Arts at the Universidad Finis Terrae in Santiago de Chile and Master in Art Research and Creation of the Complutense University of Madrid, Spain. He has received the following grant residencies: Fundación Botín (Workshop Losing the north with Julie Mehretu Santander, Spain, 2015.) CAPACETE (University of Verao Rio de Janeiro, Brazil, 2013.), AECID (Residence in Red Foundation for Contemporary Art Montevideo. , Uruguay, 2009), CC Rojas-UBA (Visual Arts Clinic. Buenos Aires, Argentina, 2007), National Endowment for the Arts (Reading Workshop in Art. Buenos Aires, Argentina, 2006).
He has had solo exhibitions in: Library of the Complutense University of Madrid (2014), Market Jesus del Gran Poder (Madrid, Spain 2015), Gallery Die Ecke (Santiago de Chile, 2012), Gallery Foster Catena (Buenos Aires, Argentina, 2011 ), Gallery 713 (Buenos Aires, Argentina, 2007). He has also participated in group exhibitions in different spaces as Villa Iris Botín Foundation (Santander, Spain, 2015), Gallery Gabriela Mistral (Santiago de Chile, 2014), EAC (Montevideo, Uruguay, 2013), Gallery Luis Adelantado (Valencia, Spain, 2013), Gallery & Natalie George Philippe Vallois (Paris, 2013), Sicart Gallery (Barcelona, ​​Spain, 2011), Centre d'Art Tecla Sala (Barcelona, ​​Spain, 2010), National Endowment for the Arts (Argentina , 2009), Foundation for Contemporary Art (Montevideo, Uruguay, 2009), Mac Bahia Blanca (Bahía Blanca, Argentina, 2008), Castagnino Museum (Mar del Plata, Argentina, 2006), Museo Nacional de Bellas Artes (Santiago de Chile, 2001 ), Marta Traba Gallery (San Pablo, Brazil, 2001) among others.
My research stems from the cracks of a world that is in ruins and it travels along a dense maze of paths among debris and neglect. Beaten up violators, accidents, waste and dumps; police victims, destroyed effigies, fugitives and mutants… My work is a record of subsidence, a compendium of material and moral ruins. In this context, my work is developed on refugees and exiles, a project that is based on the remains of a concentration camp and talks about absence, memory and oblivion, and of the annihilation of human beings, their identity and their values.
Apart from some forays into the world of photography, collage, installation and video, my experience is mainly in the field of painting, a discipline that allows me more direct, visceral work. I use the traditional, almost archetypical, visual style of oil painting to pry open the conscience of the viewer, as a pivot between omen and mourning. In this temporary distortion, post-apocalyptic scenarios, ruins from the past, hints of future disasters and memories of tragedies merge together and intertwine forming a cyclical genealogy of the catastrophe.
In this dialogue of light and shadow between the past and the present, the contemporaneity of my work is defined, my response to the darkness of the now. My research on the past is the shadow of my uncertainty of the present, concerned about the fragility of our system and the vulnerability of humanity that is sent blindly into the triumphant sirens of progress.
Collaborators: