Practical workshop on using Systorgy tools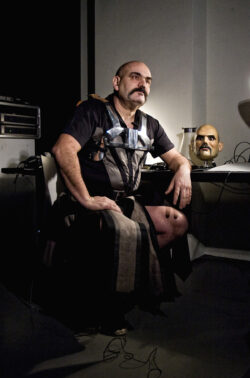 The Systorgy project consists of liberating free tools and devices that Marcel·lí Antúnez Roca has used since the nineties to carry out its actions and interactive installations. These tools make it possible to construct complex temporal interactive structures.
Normally the interactive systems contemplate three domains, the interfaces, the computational management and the representational medium. On this diagram Antúnez has developed a methodology that he calls Sistematúrgia, literally dramaturgy of computational systems. The heart of this method is the POL program. This application has until now been used only by Antúnez and what is intended with Systory is to turn it into a freeware. The project also offers some solutions to build interfaces and the publication of the PIXMAPS library based on Open Source Frameworks free software. PIXMAPS allows an extend video management.
The Systorgy project can be very useful for those people who want to start in the interactive management of complexity as well as those who want to make a professional use of it.
Phases of the project:
December 19th at 6pm, 2016.  Ricson Space, Hangar, Barcelona.
Presentation of the project and Systorgy's first materials posted to the Hangar.org wiki. In it you will find the applications to be downloaded, the installation and use manuals, manufacturing manuals in the case of the interfaces, as well as some examples of everything. Until the workshop, content will continue to be added to the wiki.
February 2nd and 3rd, 2017 from 16 to 20 hours and Frebruary 4th all day. Ricson Space, Hangar, Barcelona.
Practical workshop on using Systorgy tools. The number of participants and the materials that participants must bring will be announced on the day of the presentation of the project. The workshop will include Oriol Ibañez as a specialist user of POL, Sergi Lario developer of PIXPAPS and Marcel·lí Antúnez Roca.