Transceiver Body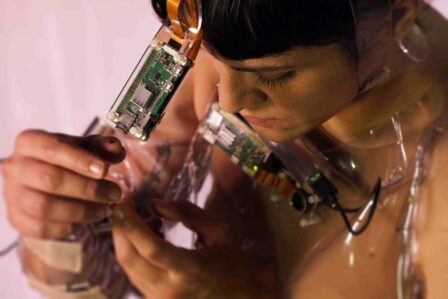 On Sunday the 14th of November at 7 p.m. the collective in residence Matics presents the performance Transceiver Body in Hangar.
The livestream rooms and platforms are today spaces to build collective identities. It is in these places where a number of observers, likes and conversations hosted in a chat room, give a particular meaning to the body in the digital space.
Transceiver Body explores these concepts through a hybrid performance that takes place both in a website and in a physical space. During the piece, a series of cameras and electronic circuits distributed in a moving body, broadcast in real time the images captured from their different points of view. Simultaneously and from the project's URL, the connected spectators receive these video signals, being able to observe and interfere in the body's behavior through a chat. Kittens, emojis and memes, at least one of them has passed through your body and your mobile today. Addiction, pure addiction.
Transceiver Body is a transmedia piece that explores the presence of the body in the digital space and the becoming of an online subject through the exploitation of one's own intimacy.
This performance is part of Hello World 2021 a festival taking place in Mexico City and will be streamed simultaneously on the festival's platform.
Practical Information
Date & time: 14/11/21 at 7 p.m.
Place: Hangar. Sala Ricson + live streaming HERE
Price: 5€
Entry ticket + inscription HERE
To join the simultaneous experience online, please register at: transceptorcam@gmail.com