VIU 2022: Live Coding Meeting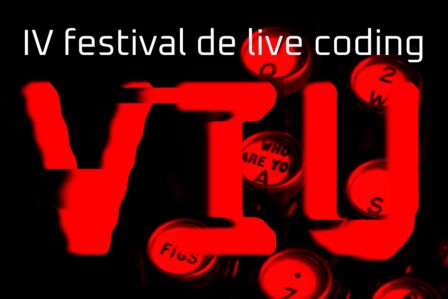 From March 24 to 27, Hangar, as leader of the European project On-the-Fly, hosts the Festival VIU, the annual live coding session in Barcelona, developed by the collective in residence Toplap. An event which, in its fourth edition, features Leonardo Foletto and Jack Armitage as international guest artists.
During the four days of the festival there will be workshops, knowledge sharing, presentations of projects developed by members of the Toplap Barcelona community, performances and a closing Algorave.
Program
Thursday 24/3
Workshop by Jack Armitage : 16h (We regret to inform you that this proposal has been cancelled for external circumstances beyond the control of the Hangar's management).

Jack Armitage is a musician, designer, technologist and researcher based in the UK. He is currently researching the design of digital musical instruments and is an artist-in-residence in Hangar during the month of March, as part of the on-the-fly project. During his residency he seeks to create a pedagogical and creative language for musical creation. This workshop will be both the result and the implementation of his research.
From scratch session : 20h
The technique "from Scratch" consists in playing live for 9 minutes, starting with an empty screen, making transparent the tools (classes, functions, data structures, etc.) that allow the livecoder to perform different musical, sound and/or visual tasks within the performance. The audience has to applaud at the end of the 9 minutes, whatever happens!
Friday 25/3
Workshop by CSOUND : synthesis and extensions of language by Leonardo Foletto : 16h
Csound has established itself over the years as an extremely powerful and reliable sound and music computer system. This workshop will explore some of the modern methodologies in which Csound is used for sound synthesis and its available approaches to extend the language. You will learn how to develop Csound instruments within the context of live coding, create new Csound "opcodes" from within the language itself and develop custom "opcodes" using C++, all while exploring different synthesis techniques.
The workshop is developed in collaboration with On-the-Fly associate partner Umanesimo Artificiale.
Something Experimental : 20:30h
This event brings together live coders who will explore different aspects of a more experimental nature in their performances, such as music created from light and colors, generative algorithms with custom instruments, immersive sound with an 8-speaker system, exploring feedback with the use of binaural microphones, and even a trombone. All this using code in different programming languages oriented to create sound and visuals.
Line up
20:00h Maia Francisco
20:30h Yanú Phlux
21:00h Niklas Reppel
21:30h Gabriel Millán
22:00h Alicia Champlin
22:30h !ME
23:00h dAAX
Saturday 26/3
Demos : 11h
DEMOS is a space where the livecoder community presents tools developed for a specific purpose. For example, a pattern library, a syntax to write from-scratch code, an algorithm to create automatic variations of a preset or a new live coding language.
Within this space are also presented projects that explore live coding from a specific point of view, rather than more or through specific tools. For example, live coding with sensors or live coding without computers:
Presentations by: Alicia Champlin, Niklas Reppel, Roger Pibernat, Iván Paz, Xavi Daax.
Round table and debate on crypto art: 16h
NFT and live coding
Non-Fungible Tokens (NFT) technology has been incorporated into the digital arts conversation, under the idea that it can be used to certify, through distributed block chain technology, the uniqueness of a digital piece. The scarcity of copies of the piece (or the impossibility of the exact copy in this case) remains the basic principle on which the remuneration of the artist's work depends, and that is why NFTs are generally seen as an opportunity for this systematically precarious professional.
Live coding is undoubtedly a digital art. Moreover, a digital art radically committed to an ethic and an economy of shared knowledge, open source and the copy and derivative piece allowed "by default". From this perspective, what can NFTs bring to live coding? And, reciprocally, what does live coding tell us about NFTs?
ALGORAVE :  19:30 h (SOLD OUT)

An Algorave is an event where algorithmically generated music is danced to, including the practice of live coding, as well as other ways of controlling and performing generative music.
Line up:
19:30h – Dinou + Glen Fraser
20:00h – Jenifer 4ninston + Julia Múgica
20:30h – Agony Aunts
21:00h – Leo Foletto + Turbulente
21:30h – Taronja i Bikini
22:00h – Aurora Steve + Glen Fraser
22:30h – r.phlux.d
Sunday 27/3
Hack-Lab-demo (LINK*) : 12h
Open demo resulting from the research carried out during the On-the-Fly Hacklab, part of the project On-the-fly: Fostering Live Coding Practices across Europe.
The activities have a limited capacity.
Attendance is free but registration is required.
Register HERE
The event will be held following all security measures.
The event is part of the European On-the-fly project and is supported by the Creative Europe program.