Trobada 2.2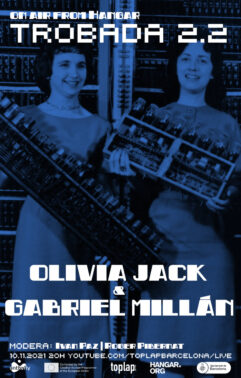 On the 10th of November at 7 p.m., the Toplap collective in residence presents Trobada 2.2, an activity in the form of a talk-performance that becomes a space to get to know the work of the Toplap Barcelona live coding community up close. Live coding is an artistic practice that revolves around writing source code in real time, so that writing the programme is also part of the programme.
For this occasion we will have Olivia Jack, creator of the visuals programme Hydra and winner of the On-The-Fly research residency, and Gabriel Millán, member of the Toplap Barcelona community.
The Trobada 2.2 will be broadcast live on Toplap's YouTube channel.
The event is part of the European On-the-fly project and is supported by the Creative Europe program.