Second edition of Viu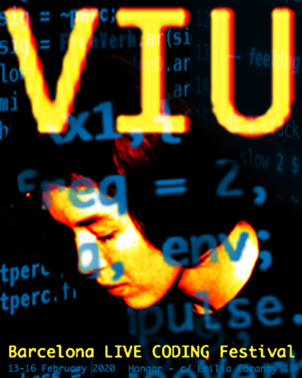 From February 13 to 16, collective in residence Toplap organizes VIU, the second edition of the Live Coding meeting at Hangar. Viu will bring several workshops set up by members of the community, in addition to live coding performances.
This meeting is an invitation to learn about this practice, participate and exchange experiences with the community of Barcelona.
Thursday 13
6 pm
Marathon from scratch
The technique from scratch consists of playing live for 9 minutes starting with an empty screen, making transparent the tools (classes, functions, data structures, etc.) that allow the livecoder to carry out the different musical tasks within the performance. If you are interested in participating, sign up at this link: https://cloud.hangar.org/apps/polls/poll/GRJ96n9LTYUZiGzE . And if you want to attend as a public, you just need to come and applaud at the end of the 9 minutes, No matter what happens!
Friday 14
6 pm – 9 pm
Sound synthesis & patterns workshop by Roger Pibernat
Various synthesis techniques to create a patch in Supercollider and how to play it live using patterns in Tidal will be explained. Requirements: You need a computer and have Supercollider and Tidalcycles installed.
Saturday 15
12 pm
Calçotada Web Audio with Alfonso Pardo
A talk about Web Audio technology introducing some related instruments. Music can be made with them while having vermut and calçots.
4 pm
Taller de Hydra, visuales con Live Coding por Citlali Hernandez
Hydra is a platform for making visuals through live code, created by Olivia Jack and inspired by modular analog synthesizers. Each video source (geometric shapes, oscillators, cameras, etc) can be generated, transformed and modulated live through text instructions.
Hydra can be used directly from a web browser. Each time it is loaded, a random code appears that can be modified. It is also possible to install hydra in the atom text editor.
8 pm
ALGORAVE
Algoraves are events where music generated with algorithms is danced, including the practice of live coding, as well as other approaches to control and perform generative music.
Sunday 16
12 pm
Morning session + Vermouth
Projection of the work in progress of the documentary video based on the Toplap_Barcelona community by Silvia Miranda.