Hangar Obert 2022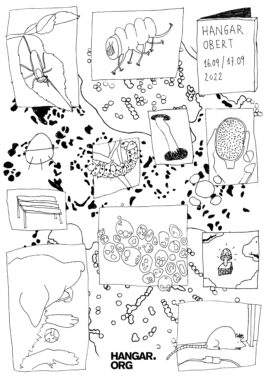 Hangar Obert will be held on September 16 and 17; two days in which the center will open its doors to the public offering a program of located visits, performances and a festive program.
During the afternoon of Friday the 16th and all day Saturday the 17th, with the complicity of artists, resident collectives, inhabitants and orbiters of the center, all those who wish to join in will be able to learn about the work, production and research processes of artists and collectives, as well as the conditions of possibility of their projects, in open conversation with them and with other agents operating in the center.
The program also includes a selection of performances by Marc Vives, a collaborative publishing action designed by curator-in-residence Mario Ciaramitaro, as well as a party programmed by the House of (S)PUNK collective.
The activities in the studios, sala Ricson and Plató room are on a first-come, first-served basis.
Free admission.
Artists
Daniel Moreno Roldán/ Pedro Torres/ Juan David Galindo/ to kosie/ Julia Calvo/ Anaisa Franco/ Arnau Sala Saez/ María García Ruiz/ Txe Roimeser Xirgo/ Luz Broto Lema/ Violeta Mayoral/ Valentina Alvarado Matos i Carlos Vásquez Méndez/ Paula García-Masedo/ Marta Velasco Velasco/ Mario Ciaramitaro
Collectives and inhabitants
Hamaca/ Crater-Lab/ Ce Quimera/ Gaia Leandra
Activities
Friday Schedule
4 to 8 p.m. // Visits to Hangar's resident and collective studios.
20 h // Performance program curated by Marc Vives featuring Txe Roimeser and Laia Gimeno
Saturday schedule
11 a.m. to 2 p.m. // La comida de la imagen. Round table and set-up exhibition.
From 3:30 p.m. to 7 p.m. // La comida de la imagen. Independent exhibition/fair open to the public.
4 to 7 p.m. // Studio visits to Hangar's resident and collective workshops.
7 to 8 p.m. // House of (S)PUNK showcase. DIY fashion contest by and for the queer community of Barcelona hosted by Ken Pollet.
8pm to 1a.m. // House of (S)PUNK showcase. DJs: Leduq b2b La Fraicheur + Lola Kay + Drazzit. Performance: Val del Raval. Visuals: La Sedienta.
More info coming soon.
Image: Txe Roimeser Xirgo